Gold Mine Bingo

511 28 1/4 Road, Grand Junction, Colorado
About Us
Gold Mine Bingo has 12 different sessions per week with 7 different non- profit groups that play Bingo each week.  With a full service 
Snack Bar
 for your convenience.  Come join us for fun & chances to win win win!
Check our 
Calendar
 Page for dates & times.
Can Kids Play?
Any age can play and win, but you have to be 18 to buy. That means the mom can buy the books for the kids, and the kids can play and win. They cannot play off of their parents books. They have to have their own books and a receipt, in order to win.  If 2 people are daubing, there has to be 2 receipts in front of them.  If the child plays bingo on the parents card, all those cards are void and will not be able to win.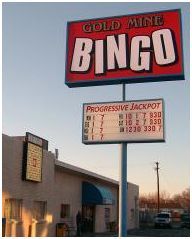 The same rule applies to the pull tabs also. The mother can buy and give it to the kid to open, but the kid cannot replay them if they are a winner, they can only cash them in.  All books purchased do include at least 1 of the specials for each game, additional specials can be purchased by anyone 18 or over.
Address:

511 28 1/4 Rd, Grand Junction, CO  81501
Address:   511 28 1/4 Rd, Grand Junction, CO  
Phone:       970-242-1369
Email:         
[email protected]